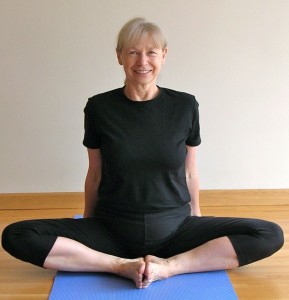 My name is Eve Johnson. Do you struggle with finding enough time to do yoga?
Are you frustrated with the lack of progress in your yoga practice? I can help!
How? I know that in five minutes a day, you can make a significant change in your shoulders, hips, core strength and stress levels.
In fact, in five minutes a day, you can change your life. I discovered this  more than 20 years ago, when a teacher told me about the one stretch she viewed as most important for my body. I  found a time of day to do it, and suddenly, for the first time in my life, I had a practice. Every day I spent less than five minutes doing spinal stretch at the kitchen counter. Within a few weeks, my hamstrings started to lengthen, my shoulders became more open, and I could finally feel movement in my upper back. In time, my yoga practice grew. I'm now a certified Iyengar yoga teacher. I've been to India. I teach classes and continue to take them. And I love my practice for everything it adds to my life. But without that first step – taking a small amount of time to do just one pose – I wouldn't be practicing and teaching today.
If you want the strength, flexibility, balance and inner peace that yoga brings, but you haven't been able to start or stick with a home practice, My Five-Minute Yoga Practice™ can become your best friend.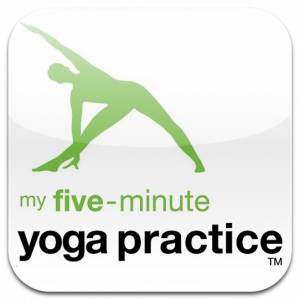 Although there are many fine yoga books, the My Five-Minute Yoga Practice app for the iPhone, iPod touch and iPad, gives you a great deal more. I'll talk you through 11 five-minute practices, with detailed instructions that tell you exactly what to do in each pose. Plus, on this blog, you'll find more than 30 Five-Minute Yoga Challenges to help you build your practice. Once you've found a practice you want to try, all you need to do is plug it into your day:
while the kettle boils
as soon as you've brushed your teeth
when you take your first coffee break
when the baby goes down for a nap
when you come in the door after work
just before you go to bed
Gradually, five minutes at a time, yoga will become part of your life. Make a commitment to five minutes a day, and you'll gradually find 15, and then half an hour. Once that seed is planted, there's no telling where your practice will lead you.
Subscribe to my blog, and you'll be notified whenever there's a new post. Best of luck in your yoga practice,
Namaste, Eve