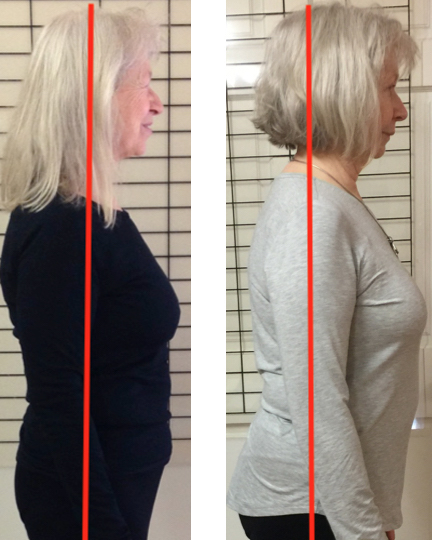 I set off for Palo Alto, in March 2016, to take a weekend course in something called Balance. On that first trip, I stayed at the Hotel California, which might or might not have been an omen. What's certain is that I checked into a new way of being in my body, and I have no intention of ever checking out.
In two days, I learned that the alignment I had been studying and teaching for 29 years in yoga was demonstrably not helping me. And the new alignment, in those moments when I could achieve it, felt relaxed and strong at the same time. The two big differences: I let my pelvis roll forward, and I stopped lifting my chest.
Like Saul on the road to Damascus, I returned home a changed person. (You can read the whole story of my conversion, plus get some sense of the work, in this post that I wrote for the Yoga for Healthy Aging blog.)
A yoga practice book I had started writing sat on the shelf. I still taught yoga, but with as much of the new alignment as I could translate into the poses. I began teaching classes in what's now called Spinefulness. And I dived into learning more, which so far has meant another four trips to Palo Alto to certify as a Spinefulness teacher, and two more to study with visiting French teachers.
I also went to Paris twice in 2018, where Noelle Perez, the woman who had the original insight for this work, was still teaching, at 93. And I just came home from a week-long seminar it Italy with Noelle's most senior student, Georgia LeConte.
The full shift took time, but in February 2019, I taught my first Spineful Yoga class, and for the first time in 12 years did not renew my Iyengar teaching certification.
Now when I write, it's about Spinefulness and Spineful yoga. This link will take you to my new blog, at spinefulness.ca. In the next two weeks, I'm going decommission the Five-Minute Yoga blog, and begin to send Spinefulness related blog posts to this mailing list.
If you're interested and want to keep in touch, you have nothing more to do.
If you'd like to clean out your inbox, and you don't think you'll miss me, then thank you for having subscribed, and Godspeed. Hit the unsubscribe button, and let's part friends.